A Printmaker in Lockdown: Lisa Chang Lee ARE
Since March, as a result of Covid-19, most of my commissions and exhibitions have been postponed or cancelled. However, the lockdown has made me slow down and learn to live in the present. Over the years a big part of my practice has been digital and research based and involves many hours of sitting in front of my computer. At the beginning of the pandemic, I found myself severely overwhelmed by even more screen time occupying our daily life: news feeds, online events, virtual meetings and teaching, social media, let alone the many video calls with my family in China since the outbreak last December.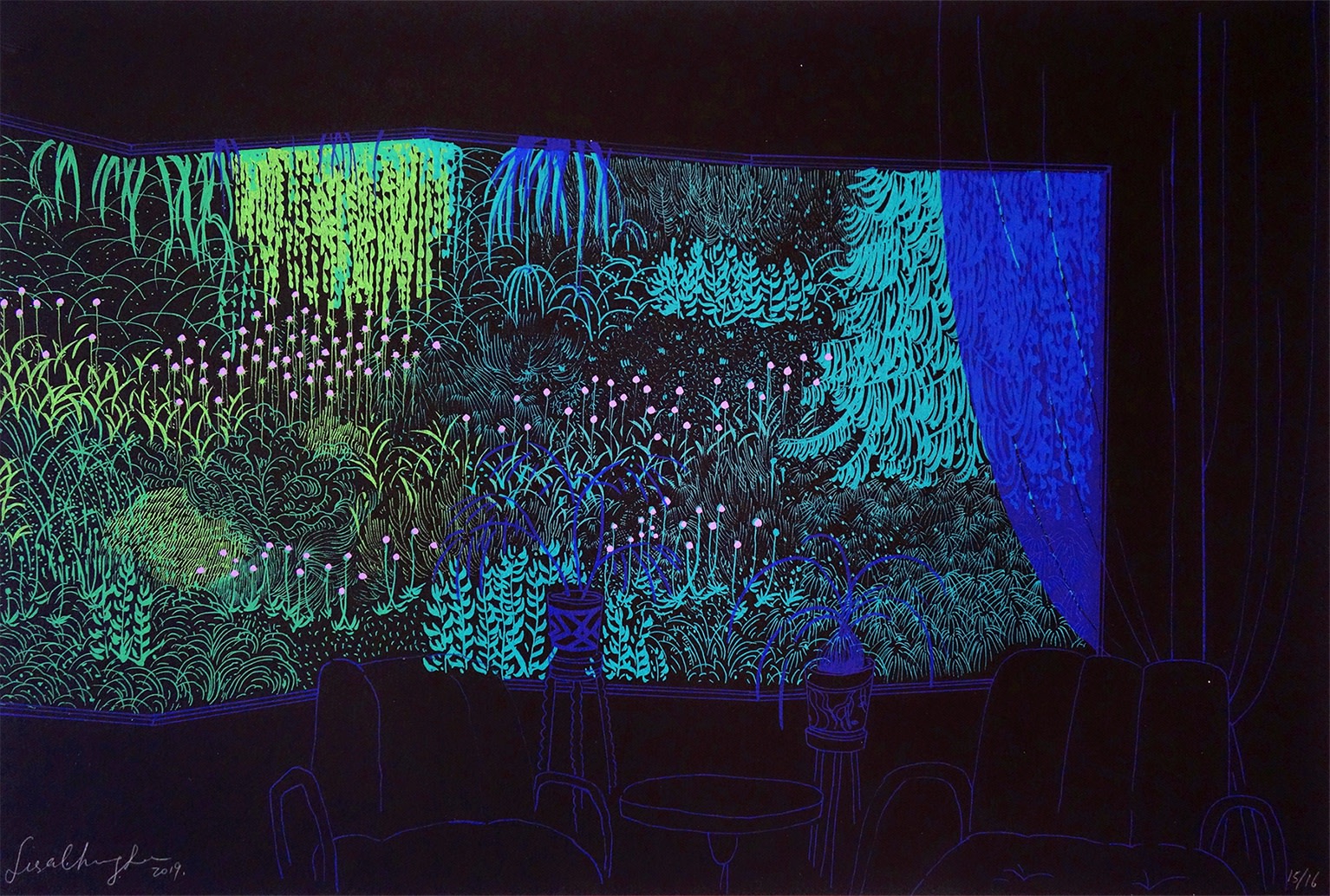 'Window Concerto', screenprint
At the same time the lockdown gave us the opportunity to spend more time observing nature around us. I found peace when looking at animals and plants flourishing in spring, watching newly hatched baby swans growing up, and their changing feathers. An orphaned young fox in my garden which I fed last year came back with five little cubs. I watched them running around every day from my balcony and it was absolutely fascinating. Nature carries on, and it's very healing to see.
'Lockdown Work no.21, A Friend With Wings', acrylic on canvas, from Printmakers in Lockdown exhibition
Initially I trained as a painter in art school, I tried to step away from my devices and started to paint ordinary things in the neighbourhood, animals and plants that are often overlooked, this crow for example. Crows are often misunderstood and symbolized as misfortune in many cultures but in fact they are very intelligent and beautiful as well. I don't have printmaking facilities of my own so I also started to paint on engraved wood boards. I made some home-baked playful prints and also printed with my own body.
I always find painting and drawing very direct and intimate compared with other mediums, as there is no screen or lenses in between you and the object. I want to somehow make prints in this way as well.
You don't have to transform the world but make it your own so as to liberate the mind. Especially during these strange times, we need those moments for ourselves, to restore and reconnect."
Lisa Chang Lee ARE is a multi-media artist, independent curator and lecturer based in London. Born in Beijing, China, she was offered an exam-free entry from Central Academy of Fine Art in Beijing for her BA in fine art (2006-10). She obtained an MA from the Print department at the Royal College of Art in London in 2014 and has gradually established herself as a young artist since then. In 2018, Lee was endorsed by Arts Council England with an Exceptional Talent visa to live and work in the UK. She is now a visiting lecturer at Central Academy of Fine Art in Beijing and the Royal College of Art in London and a member of the Royal Society of Painter-Printmakers. Lee is also the curator of Print Future Panel of International Printmaking Triennial at China Academy of Art(CAA).