A Printmaker In Lockdown:
Michelle Griffiths, RE Vice President, tells us of her experience of continuing her work during the first lockdown in spring this year.
"I felt very fortunate to have a small studio a few paces from the backdoor of my house when lockdown was announced and it became clear that we would all have to endure a form of house arrest. In fact, the early stages of lockdown felt quite liberating to me. There were no pressing deadlines as all galleries had to close and the artworld more or less came to a standstill. Working daily in the studio became the norm. Social distractions were minimal. There was more time to read and think. The weather was wonderful and my old bike was dusted off and the tyres pumped up to enable some rides along the cliff top near my home as my permitted daily exercise. Meanwhile, the media were reporting the tragic news of the mounting effects of the pandemic and the awful scenes from the hospitals. The contrast between the personal experience of self-isolation and the wider effects of the pandemic was dramatic. The sunny pleasure of creating new work was surrounded by the darkness of Covid, resulting in a very strange psychological space in which to work creatively.
In practical terms, I soon became aware of limitations to my practice at home. As a screen printer, I have the equipment to print in my studio, but I do rely on visits to an open access print studio (The Badger Press) to make up the stencils on the screens; coating the screen mesh with a light-sensitive emulsion and exposing the coated screen in a large exposure unit. Once used, and the design on the mesh has been printed, the old stencil has to be completely cleaned off the screen mesh, using a high-pressure washer to blast the old stencil off the screen with water before re-coating with emulsion and re-use. These processes require more space than I have in my home studio.
'Unequal Balance', screenprint, image size 7.6 x 7.7cm
(currently available in the Bankside Gallery Online Store)
RE exhibitions held at Bankside Gallery, and elsewhere, show only the printmaking output of RE members, many of whom work in more than just printmaking alone. My practice is equally divided between printmaking and painting but my studio time is not continuously divided so equally. Several weeks or even months may pass whilst I concentrate exclusively on one medium. As lockdown began, I was in the middle of a very productive spell of screen printing. It had been a couple of months since I had done any painting. Choosing not to make the hour-long drive to the Badger Press during the most stringent period of lockdown, I soon ran out of screens to use at home and so turned back to the oil paints. After a lengthy break from painting I find I may return to unfinished canvases with a sense of clarity and full of fresh ideas, or sometimes with a sense of confusion and amnesia. Luckily in this case it was the former.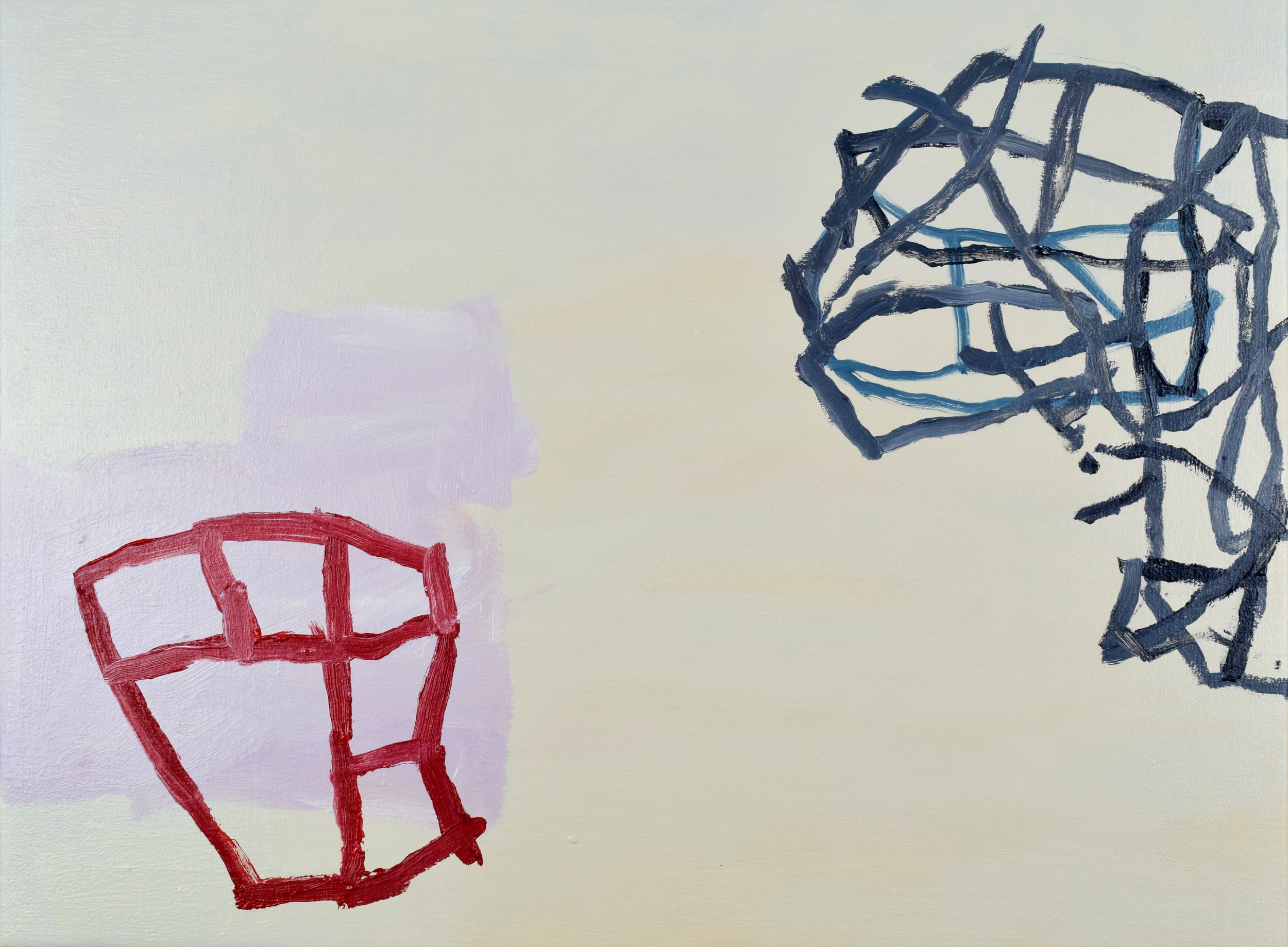 'Underlying Reason', oil on canvas, 50.5 x 65.5cm,
from Printmakers in Lockdown exhibition
The two paintings included in the Printmakers in Lockdown exhibition reflect the new iconography which emerged as I worked on a group of unfinished canvases through the early stages of lockdown. These paintings contain linear forms which might suggest a floor plan or crude wire frame drawing of an unknown construction and have a sense of unease, threat or anthropomorphism set against more light and benign forms, the combination of which function as visual metaphors for the contradictory psychological effects of lockdown."
Michelle Griffiths studied painting and printmaking at Brighton in the 1970's. Since then, she has exhibited widely in the UK and abroad including print biennales in Yugoslavia, Bulgaria and Holland and mini print exhibitions in Spain, USA, Canada and UK. Her work is included in a number of public collections including the Victoria & Albert Museum, London, Arts Council England, Varna in Bulgaria and the Ashmolean Museum, Oxford. She now lives and works in Dorset and is a member of the Printmakers Council and has been Vice President of the Royal Society of Painter Printmakers since 2018.